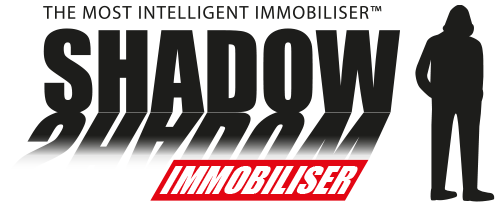 Information regarding your Shadow Immobiliser
Thank you for purchasing the Shadow Tracking System
Below we have put together some information on how to operate your Shadow Immobiliser, with some Frequently Asked Questions.
Please feel free to bookmark this page for future reference.
HOW TO USE YOUR SHADOW CARD
Your card should be present, switched on and charged accordingly whenever driving your vehicle. If your card is not present, your vehicle will not start. Once the ignition is switched off the immobilisation will arm and will not start unless the card or app is present. Each card has an on/off button which can be used for further security allowing no signal to transmit. To charge your card, align the prongs of the USB charger to the copper colour dots on the card. The Card LED on the button side will change to Red and once fully charged will turn to green. To fully charge your card normally takes around 30 minutes to 1 hour.
HOW TO USE YOUR SHADOW CARD
The Shadow Immobiliser is the most convenient yet secure vehicle security solution available on the market. With many alternative methods of operation, the Shadow Immobiliser is the only product of this nature to offer a bespoke and convenient solution for your individual needs. Enquire today for more information.
If you forgot your card or prefer to use an App
Shadow Immobiliser app works as a backup system to the cards allowing you to start your vehicle if your cards are out of charge or not present. If you prefer, the App can be used instead of the cards. Open the app using the required security method: Face ID or Passcode. Await for the progress bar to complete and the vehicle will start. Your vehicle will remain in an un-immobilised state until the vehicle's ignition is switched off.
Features available for the app:
Home Page
When you log into the Shadow Immobiliser app you will be faced with a progress bar, this progress bar will fill until completion mobilising or immobilising the vehicle.
Current status of the vehicle will be displayed in the blue box at the bottom of the page.
Override / Service Mode
The Shadow Immobiliser can be overridden using the app and disabled for a period of time. Here you can use the wheel to select your desired time and set accordingly.
Current status of the vehicle will be displayed in the blue box at the bottom of the page.
Add Schedule
In the add schedule menu you can create an override schedule for the week and have the app automatically mobilise your vehicle for a defined period of time over a selected day or number of days for the week. Here you can select which days you want to have the schedule operate and a start and end time.
Override Schedules
Here you can see which schedules are currently active for the week.
Settings Menu
The Settings menu allows you to change settings to tailor your user experience within the shadow immobiliser app.
Settings include:
Override / Service mode
Card Battery Levels
Schedule Override Mode
Account Settings
Tutorial
Troubleshooting
Battery Levels
Here the battery levels of all linked Driver Detection Cards are displayed. Each Driver Detection Card can be charged via usb using the charging cable provided on install.
Replacement or extra cards and chargers may be purchased by contacting our Secure Control Centre.
Account Settings
The account settings menu provides an overview of your vehicle, including name of vehicle and registration number. Within this menu you can also notify us that you have sold your car, you can also choose whether to receive push notifications for your Driver Detection Cards when the battery reaches 30% as a reminder to charge your cards. Here you also have the option to change your registered email address, add another vehicle to your app and set a pin code for when you start the app.
Frequently Asked Questions
The Shadow Immobiliser is available to purchase through specified premium resellers. For more information or to request details of your approved supplier, please complete the adjacent form or contact our sales team on: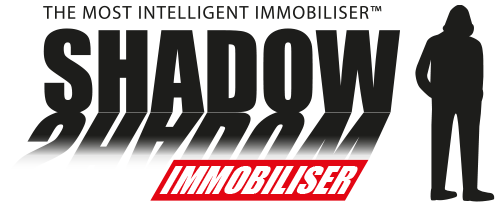 Global Telemetrics Limited, Telemetrics House,
Old Station Close, Coalville, Leicestershire LE67 3FH
Telephone: 0800 279 5645
International +44 (0)1530 275920
Email: customerservice@shadowimmobiliser.com
All calls to the Global Telemetrics switchboard are recorded for training and monitoring purposes
Registered office: Global Telemetrics, Telemetrics house, Old Station Close, Coalville, Leicestershire LE67 3FH.
Global Telemetrics Ltd, is a limited company registered in Fngland & Wales, Company No 6965076 vat number 119 848 871.
All Rights Reserved © Global Telemetrics Ltd 2023 | Privacy Policy | Terms & Conditions